Your company anniversary is an excellent way to promote your people and brand. From well written and planned press releases to promotional give-aways, there's plenty of suggestions for celebrating a milestone and bringing in business. Here is what we suggest from iKANDE…

14 Ways to Promote Your Company's Anniversary:
1 – Create a plan, theme, tagline, campaign
Before you take advantage of any of the ideas below, first make a plan. And make sure that plan accounts for your goals in promoting your company's anniversary and the audience you want to reach. Next, make sure you allow yourself and staff enough time to carry out everything you want to do. Nothing is more stressful than loading up your staff with last minute details or burdens. And lastly, have fun with it. It's a celebration after all! Need help brain storming, reach out to iKANDE for further help.
2 – Press Release
One of the best ways to garner free publicity is to tell your local, regional or national outlets that you have a company anniversary coming up. Depending on where the majority of your customers or potential customers are you'll want to match your list of media outlets to cover all of those same areas. If writing or disseminating this info is not your strong suit, hire an agency to do it for you. More tips from iKANDE on press releases here…
3 – Social Media
You'll want to share the upcoming anniversary with everyone you can using all avenues at your disposal. So if that means facebook or instagram or something else, decide on a plan and start working that plan. If you aren't comfortable with social media, consider a social media partner to handle that part of your communications for you. Also, adding video or even a simple animated gif can grab attention, Learn more here…
4 – Website
Make sure to promote your company's upcoming anniversary on the company website. Advertise any give aways, freebies or discounts that may be coming up. Run a contest if you'd like to do something big, but want to stick to a certain budget. Plus, once the month of your anniversary has come and gone, keep sharing photos from the party, highlight and congratulate anyone who won a contest or took advantage of the discounts. Also, consider adding a 15+ years in business logo (or however many years your business has been in existence). This alerts customers and potential customers of many years of expertise and service.

5 – Free Give Away
From pens with your logo to an actual service, you can get really creative with this. If you are a custom builder, throw in a free upgraded kitchen package, worth $10,000. Or if your company does additions and specialty renovations, form a contest where the winner receives $1,000 off their next bathroom remodel. If you are a realtor, give away tea or coffee gift bags at an upcoming event. The sky is the limit, so have fun!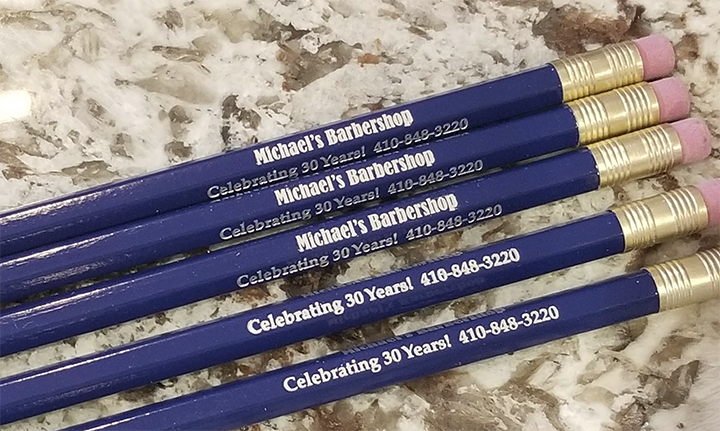 6 – Special Offer
One of the best things about connecting a special offer with a celebration is the time limit. It creates urgency to act. You can decide to roll it out and surprise your audience or you can create anticipation by letting them know it's coming. And you can decide how many or few details you are going to share. Plus, you can connect it to an internal goal. Maybe you are trying to get more followers on facebook or make more of your current customers aware you provide a certain service. Or maybe the special offer is connected with customers serving as ambassadors for your business. Maybe you request they refer your company on (insert social media platform here) and be entered to win our 50% of their next project with you.
7 – Share your company's story
Audiences love to see and hear about your staff and the inner workings of your company. So tell them how much business you've done over the past 10, 20 or how ever many years. How many projects you've brought in, how many happy clients you've made, how many areas you service, how many cups of coffee it took. Communicate those numbers in easy digestible numbers. Maybe it's an infographic or short snippets with photos on social media or even a blog post on your website.
8 – Blog
Just like press releases, blog posts are an easy way to communicate your company's celebration. In fact you can repurpose your press release and post it to your blog. Just make sure you edit it for your audience. It probably won't be as formal as a press release and you can also go into more detail too. Plus, you can add more photos and an infographic. Check out Anatomy of an Awesome Blog post by iKANDE.
9 – White Paper
If you don't already know, a white paper is a long form piece of content, such as a guide or a report, similar in length to an e-book. Consider sharing an in-depth look at a problem and a solution for a particular process or method. You don't want to be salesy and you may want to hire a graphic designer to help you lay it out. Pick a topic that would be greatly beneficial to your reader and also be content you or your staff would be especially knowledgeable about. Consider offering it for free as part of your anniversary celebration. And if you must ask for anything in return, maybe just an email or first name for a website visitor to download it. For more about white papers, Hubspot has a great post here…
10 – Partner with local company's, cross promote
Let's face it – you are going to need help pulling off a successful company anniversary promotion. And chances are, those partners will be in your same town. From the graphic designer to printer to the corner party store, you'll be amazed at how many people you'll need to lean on. Plus, if you mention you'd like to promote them on your website, through social media, or thank you notes, they might just provide you with some extras or cross promote-in-kind. It's always worth it to ask. Need referrals, ask iKANDE. We're always happy to share.
11 – Decorate
From the office, to your staff's desks or even customers offices, make sure your sense of fun and celebration reach as far as possible.
And even if you are meeting virtually now, create balloons and streamer backdrops for your video meetings. Send balloons, streamers, confetti, etc. to your working-remotely staff and customers. Help them feel connected and included even if you aren't together in person. With the uncertainty that can loom sometimes, creating a positive focal point for anyone that comes into contact with your company or it's people is up-lifting.
12 – Have a party
Under normal circumstances, inviting staff and customers to an open house or party would be ideal. If that is unrealistic, you can still party! Host virtual events. Share a day in the life of a staff member, along with bring your favorite cocktail or wear a party hat. Maybe it's just small groups or even an open invitation for a larger audience. Maybe you host a watch party of a music event or a favorite movie on a Friday night. If your anniversary coincides with an opening of a showroom (and even if it doesn't), take guests on virtual tours of your space.
13 – Let customers & partners know, send an eblast
Share the celebration via your next email newsletter that your company's birthday is coming up. Let receivers know what you are planning, how to connect with you and all the good news surrounding your business through this positive occasion. Don't forget to thank those that have helped your business grow along the way, from staff, to partners to customers. Make sure everyone is named and feels a sense of inclusion in the celebration to come. If you have a hard time tooting your own horn, reach out to a professional copywriter and/or graphic designer to craft your entire message for you.
14 – Send thank you notes to everyone that helped.
It's a great final touch point. Staff will feel valued and a part of your company brand. And customers or partners will feel appreciated and more likely to refer new business to you. Win-win all around. If you have many people to thank, consider, scanning team member signatures to make printing specialty cards simple. And opt for actual cards, not eCards. There is a time and place for everything. Cards that show up via USPS have a much greater shelf life and impact.
After the confetti is cleaned up, analyze your celebration's success. What went well in planning and executing your campaign? Take stock of how everything rolled out. What was the biggest hit or dud. This will give you a template on how to run your celebration campaign next year.
Have an upcoming company anniversary coming up? Let iKANDE know! We'd love to celebrate with you!