We think you will love this simple SEO strategy to generate high website traffic. If you could use more organic traffic using Search Engine Optimization for your website, read on.
Neil Patel breaks everything down in a simple video in less than 7 minutes. He shares a simple strategy, that over time, will build your website traffic exponentially. And it's organic so the only investment is your time. By time, we mean time to research, write and post content to your website. We know you can do it!
Here are the key components:
First, use Ubersuggest, a free online tool*, to check keyword rankings in your industry. You should type in keywords that would benefit your company and be found in your industry. Think specifically what you want your company to be found for online if a potential customer did a search. And then click SEARCH. Check out this first page. It's a good overview of what is happening through online search surrounding that keyword. Next, click on Keyword Ideas at left.
Then click on QUESTIONS (under the Keyword Ideas that come up) to see what is asked most often within your industry. Review the list that comes up.
Hone in on the keywords that have these 3 things:
Low SEO difficulty (SD – estimated competition in organic search. The higher the number the more competition).
High volume (VOL – the number of searches this particular keyword has per month).
High Cost Per Click (CPC – the average amount paid if you want to be seen by Google as an ad).
A High CPC means the keyword is somewhat valuable and has the potential to help you convert a website visitor to a customer. These are good blog post or article topics to consider for your website. Also, the green highlighted SEO Difficulty (SD) scores are good keywords to consider creating content for.
Next, look through the list and see what topics you'd consider writing about. Create content around questions that are being asked through online search. This will help generate traffic on your website. It will also help you rank better for Google searches and potentially build you up as an expert in your industry. And it should help you convert website traffic to customers if implemented well.
2 Tips:
1 – While using Ubersuggest, mouse over the gray circle with question mark if you want to know more about that section. It's a great way to discover more about each area.
2 – Make sure each post page your create on your website has an email sign up form so you can collect potential leads.
See, a simple SEO strategy to generate high website traffic can be easy! If you'd like to view that less than 7 minute step by step video… check out Neil Patel's Simple SEO Strategy here…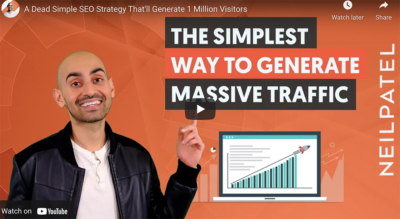 And in 2 to 3 months, follow up with us. We want to hear how it went for you and your website.
Or if you run into any snags along the way, let us know. We'd like to help…
*Ubersuggest has a free version and paid plans as well.