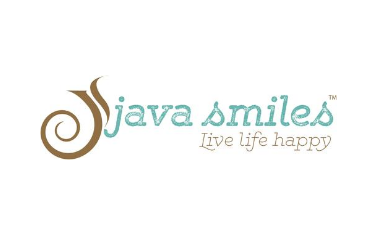 Java Smiles™ was born out of a passion for coffee, creativity, and the art of happiness. Java Smiles™ embodies the pleasures experienced throughout the world from a simple cup of coffee to meeting a new friend. Sum that up in one logo with one name. Use simple, playful symbols and bring it together with the perfect color palette.
Create a logo that could be used in it's entirety or easily be simplified into it's iconic symbol – the "js". Use of warm colors that mirror the different colors of coffee flavors, but marry pops of color in certain uses. Create a laid back, stress-free brand that everyone from teens to grandmothers would easily wear.
A fun, swirly "js" precedes a vintage looking font with the tagline – Live Life Happy. The logo is diverse enough to be used on apparel, print materials, decals, oval car stickers and mugs. Limited supplies – Get your very own mug today, contact iKANDE. Colors and pricing below.
Limited Edition Java Smiles Mugs
We want to help everyone get your company from that very first impression. Starting with brand strategy is smart.
Mockups come from marrying your brand strategy with the vehicles that can convey your mark, or logo.
Drawing skills, determination and good communication make excellent illustrators.
A great logo comes from qualified graphic designers who can convey your brand into a mark.
We love this brand. How could you not! I have mugs, a tank top, tee, and decal on my car. And my husband has a zip up hoodie that he wears all the time.
The hosts of a Beach BnB poured our morning coffee into these mugs and I liked them so much, I had to buy 2 to take home. Great souvenirs!