When drafting and sending out press releases there's a number of things to take into consideration. Your geographic location, timing, content, goals, news cycles and news mediums are all variables you'll want to consider.
The tips listed below are the top reasons the press release below gained recognition. If you'd like to do the same, here are the top 5 tips to get your press release noticed, published and posted:
1. Frame your content in a professional, polished and profitable way.
Include all the facts and then go back and polish it so that an editor would love to run or post it and a reader would be interested in reading it. Make sure you get a proofreader or copywriter involved too. The extra set of eyes will make it even better. And don't forget to give a little more information on any company(s) listed in the content. (This can be profitable by leading potential customers to them, or you. And press releases that get picked up and published or posted are essentially free advertising. Just think what an ad that size would cost!)
2. Add quotes and photos.
Quotes and photos add extra dimension to your content and help attract a reader. A quote can add a face, emotion, context and interest to your press release. Including at least one high resolution, high quality photo (with a credit line) or art, is a must. Quotes and photos greatly heighten your odds of being published, and thus being read.
3. Your headline is your first hook.
When you send out a press release, it's like fishing. You want to use the best bait possible. So take extra care, and time, in crafting a stellar headline that fits the audience you are sending it to. I like to write my headline last. After I've spent a bit of time writing the body copy, the headline is easier to craft. And remember, you can change your headline according to your intended audience or platform.
4. Short and sweet.
Because press releases primarily communicate facts, they are to the point and can be kept somewhat short in length. Whenever possible, I try to keep my content to one page… or close to it. The below was just over one page. Print mediums have limited space, so keeping your press release short is helpful to an editor. I've never had an editor ask for more copy. They'll follow up and ask more questions if they need more than your press release presented. Online platforms have more flexibility. If your press release is going to be online, you don't have to stick so closely to the one page suggestion.
5. Timing IS everything.
Get to know the media outlet(s) you intend to send your press release too. You've probably poured a lot of time and resources into your press release and you want to give it the best chance possible for getting noticed. Usually Monday through Thursday, between 8-10am, are a good place to start. The below was sent out on a Tuesday morning (EST) and picked up by at least 6 newspapers. I also promoted it lightly via social media and repurposed it for the iKANDE website and LinkedIn. It's very important to keep an eye on local, national and world news. If a highly newsworthy event just occurred, hold your press release a day or two if it will give it higher chances of being picked up and printed or posted.
Well there you have it! The top 5 tips to get your press release noticed, published and posted. I encourage you to utilize the tips and then experiment, explore and tweak to help your next press release get noticed.
And if you are interested in finding out more, just do a Google search for Getting your Press Release Noticed.
Now, I'd love to hear from you!
click here and email Damien
Let me know if these tips helped you.
• • • • •
iKANDE wins Best Website at the HBADE Regals
WILMINGTON – Middletown Kitchen and Bath of Middletown, Delaware has won "Best Website" at the Regal Awards ceremony on Friday, May 20th. The Home Builders Association of Delaware (HBA/DE) 25th Annual Regal Awards took place at the Delaware Center for Contemporary Arts in Wilmington, Delaware.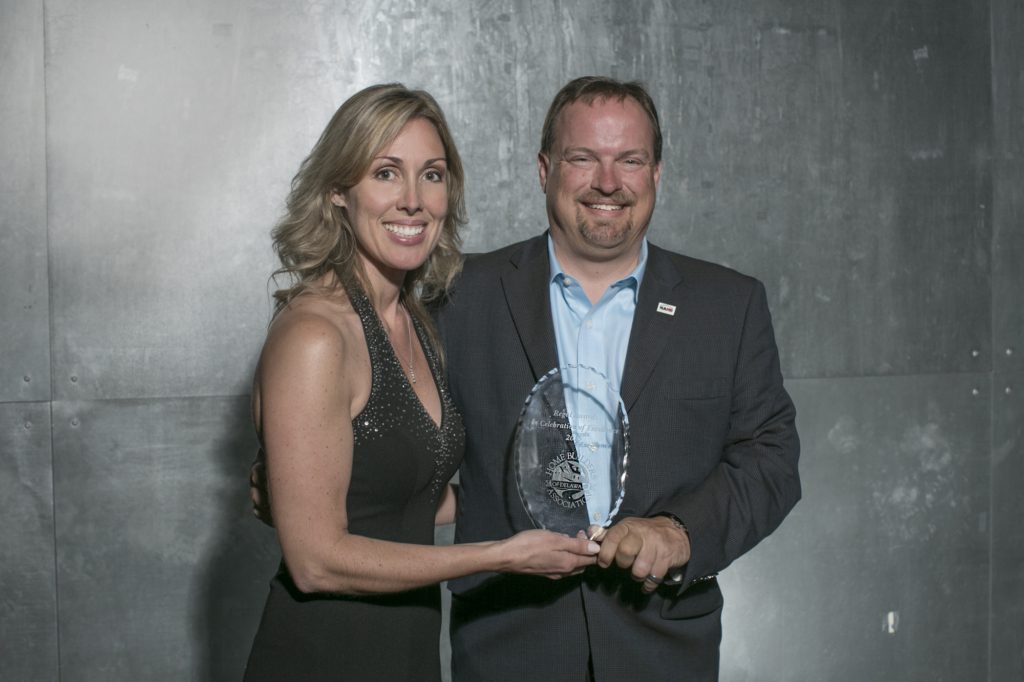 Photo credit: (from l. to r.) Damien Golden, Creative Director, iKANDE Advertising and Mark Gandy, President and Founder of Middletown Kitchen and Bath. Photo by Karl Richeson.
Mark Gandy, President and Founder of Middletown Kitchen and Bath, hired iKANDE Advertising of Bethany Beach, Delaware, to design the new company website. The new, mobile-friendly website for Middletown Kitchen and Bath at MKBDE.com has had the greatest impact on sales, more so than any other social media application or electronic software. With mobile device browsing surpassing traditional desktop searches, the site has a layout that intuitively reconfigures itself depending on the users preference. The modern color palette, parallax scrolling, professional lifestyle photography and Search Engine Optimization (SEO) built into every page, combine structural design with an eye-catching layout to create the ultimate use of technology.
The goal of the new website was to stand out from competitors online and provide potential customers with relevant information about Middletown Kitchen and Bath.
"As Mark and I discussed in the design phase, anyone in this business can and does saturate their web site with project photos and stock photos of kitchens and baths. We wanted the MKBDE.com site to be different. We focused on showing diversity and the "human" side of the business," says Damien Golden, Creative Director, iKANDE Advertising.
By using the right search engine optimization tactics, complying with Google mobile-friendly benchmarks, and presenting a technologically advanced website filled with engaging photos, real life customer testimonials, calls to action, and sample projects, a strong connection with potential customers can be made.
Mark Gandy adds, "Between the quality of the site, the SEO friendly content management system, and my own blogging and SEO efforts, after only being live for a few months, I am already ranking on the first page of organic search results for key words in my immediate market, and my web site presence already has a 71% grade via buzzboard.com. To say I am extremely pleased is an understatement."
The target market of the website is homeowners located in, or within 70 miles of, Middletown, Delaware who are searching for a design-build partner for their kitchen, bathroom or interior space renovation. Average project budget is from $17,000 to $50,000.
Middletown Kitchen and Bath provides interior design services utilizing Pro Kitchen software. They also sell kitchen and bathroom cabinetry, countertops, appliances and fixtures. Their services include floor to ceiling, turn-key remodeling for kitchens, bathrooms, and other interior rooms of the home. Their showroom is located in Middletown, Delaware.
iKANDE Advertising, an award-winning design company based in Bethany Beach, Delaware, and caters to small to medium sized companies who need to grow their customer base. iKANDE Advertising provides eye catching design that gets results. Their services include web design, graphic design, printing and social media.