Overview of Davis, Bowen & Friedel, Inc. website
Industry: Architecture, Engineering, Planning, Surveying
The Client: Davis, Bowen & Friedel, Inc.
Project Timeframe: 18 months+
Pages: 100+
. . . . . . . . . . . . . . . . . . . . . . . . . . . . . . . .
The Challenge:
DBF's previous website was modular, outdated and didn't highlight any of their outstanding projects, news, staff or robust career opportunities. They needed a professional online presence that showcased their extensive portfolio, experienced staff and attractive employee benefits. Plus, they needed a site that shared their architectural, engineering, planning and surveying specialties to potential clients.
The Solution:
A clean, professional, website with video and parallax design. The welcoming video loop on the home page adds movement and showcases the staff and projects in Delaware and Maryland. Through well-placed content, a viewer can navigate and find more information easily.
Along with large photos, open white spaces, and calls to action, the site has a cohesive design from page to page. Plus, Stay Connected calls to action on every page invites visitors to stay in touch with DBF, inc. The website is now a valuable tool for potential clients and staff attraction.
DBF's new online presence has organic SEO built in. Now, when a search is conducted in the area, Davis, Bowen & Friedel, Inc. is more likely to show up.
DBF, Inc. Home Page: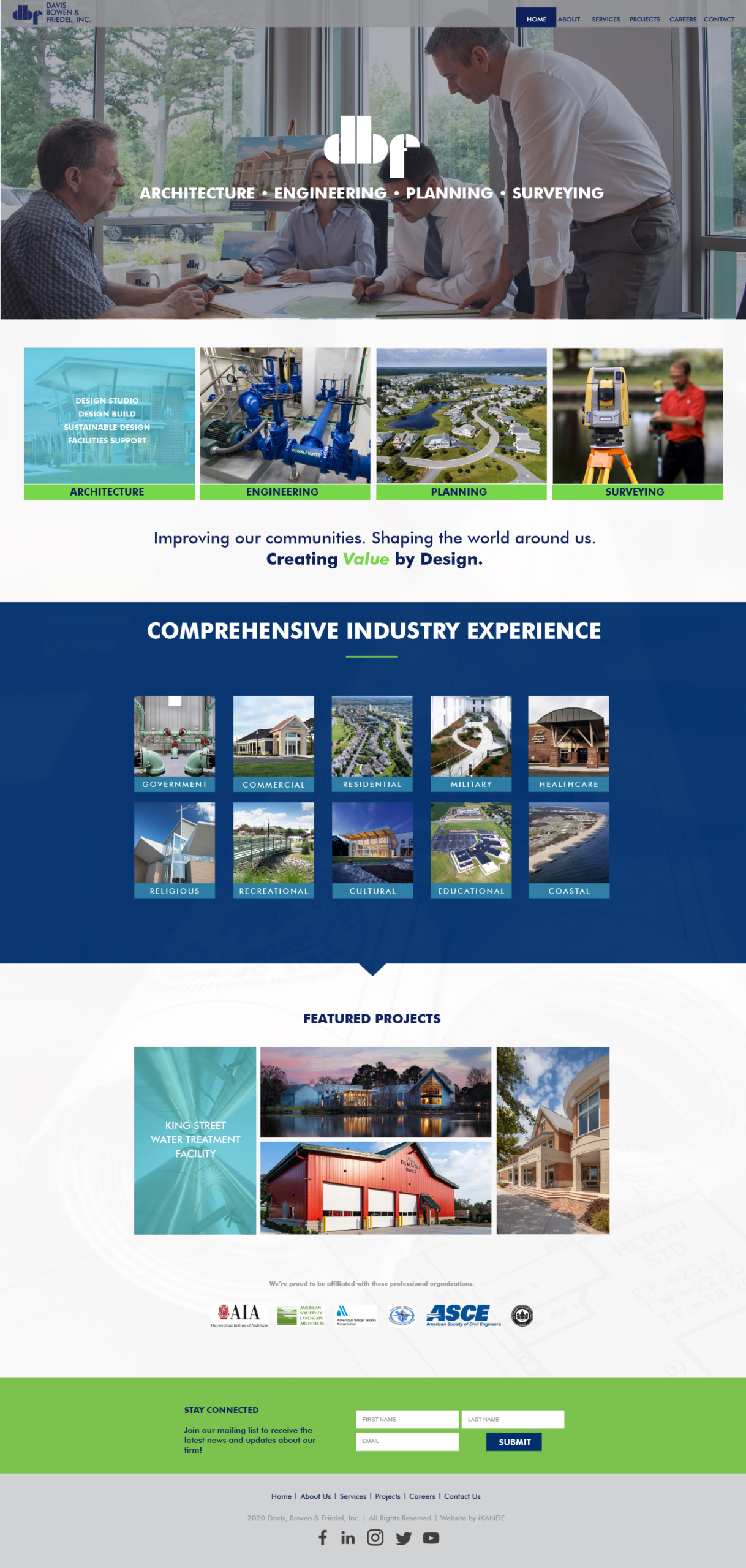 Project Overview Page:
An attractive overview of multiple projects, that can be filtered by category, helps a visitor quickly navigate to specific jobs that interest them.

Rehoboth Beach City Hall Project Page
A visitor can click on one of dozens of DBF, Inc. projects and learn more about that specific job.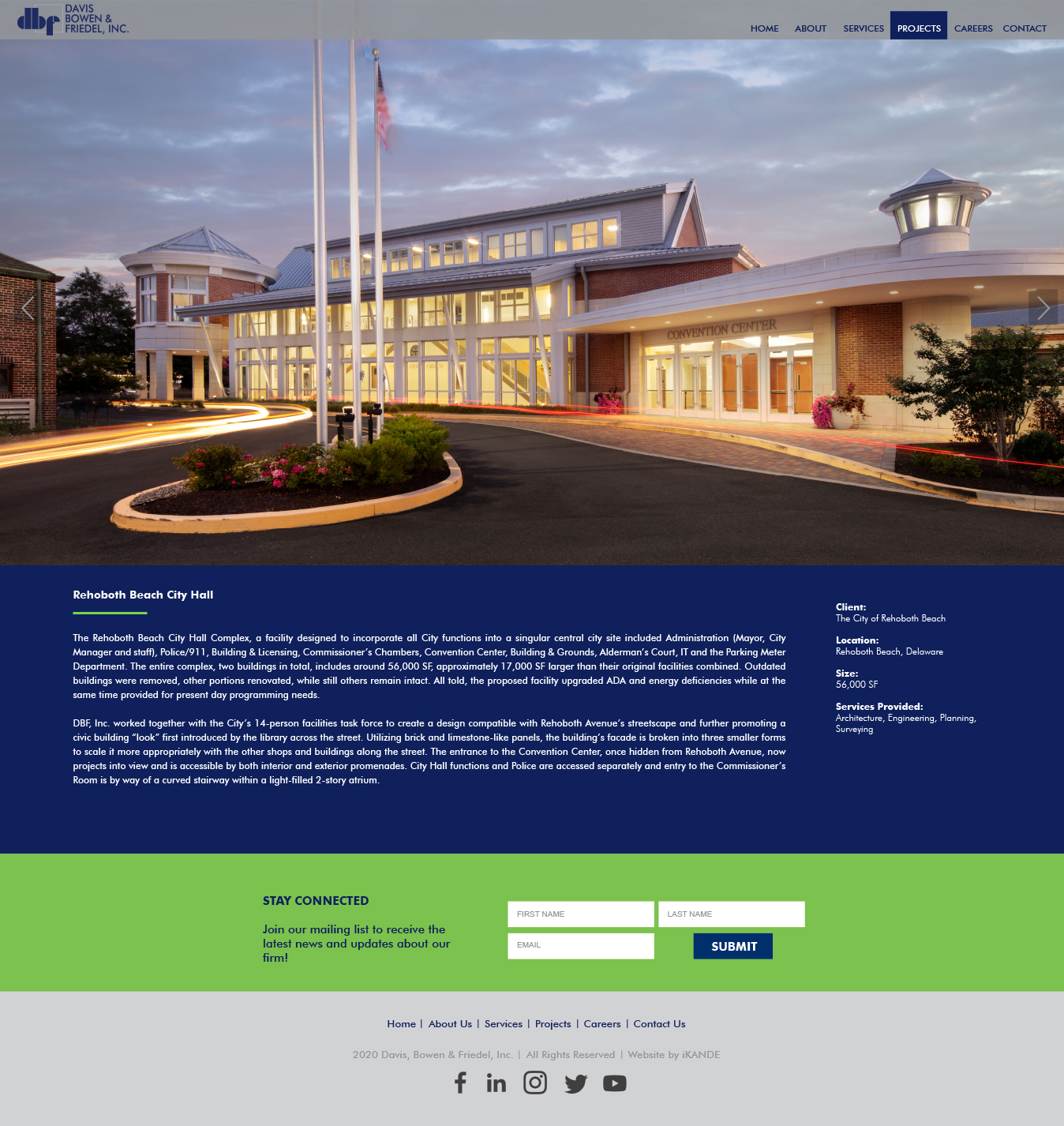 DBF, Inc. Services Page
A visitor can quickly view DBF's services. And when a viewer scrolls over the thumbnail above that service, a list of further details appear.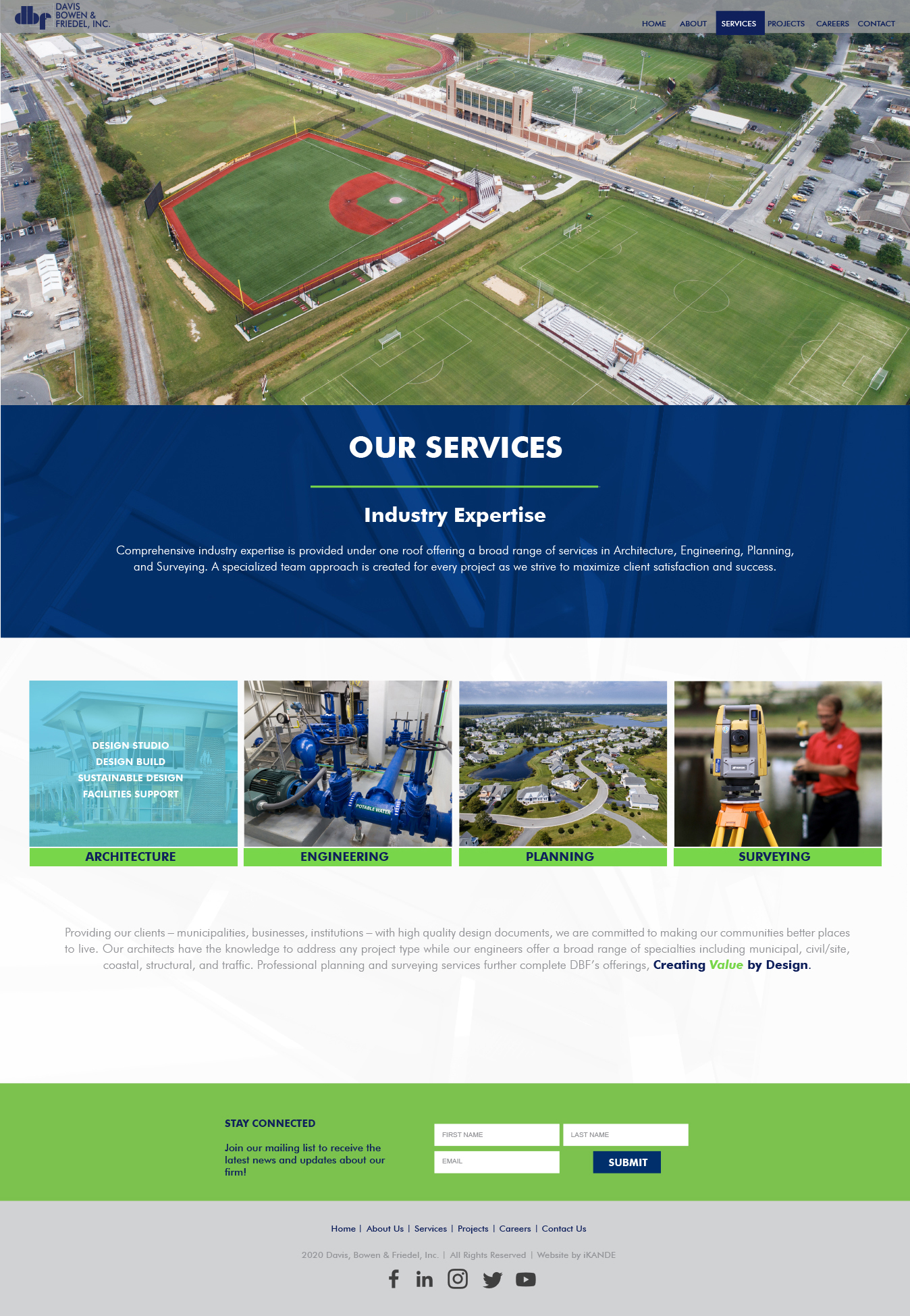 Architecture Services Page
For an analytic visitor, providing enough information to create the subliminal invite to contact your business is important. The architecture page below provides a good example of just the right amount of information to entice a viewer to follow up and connect.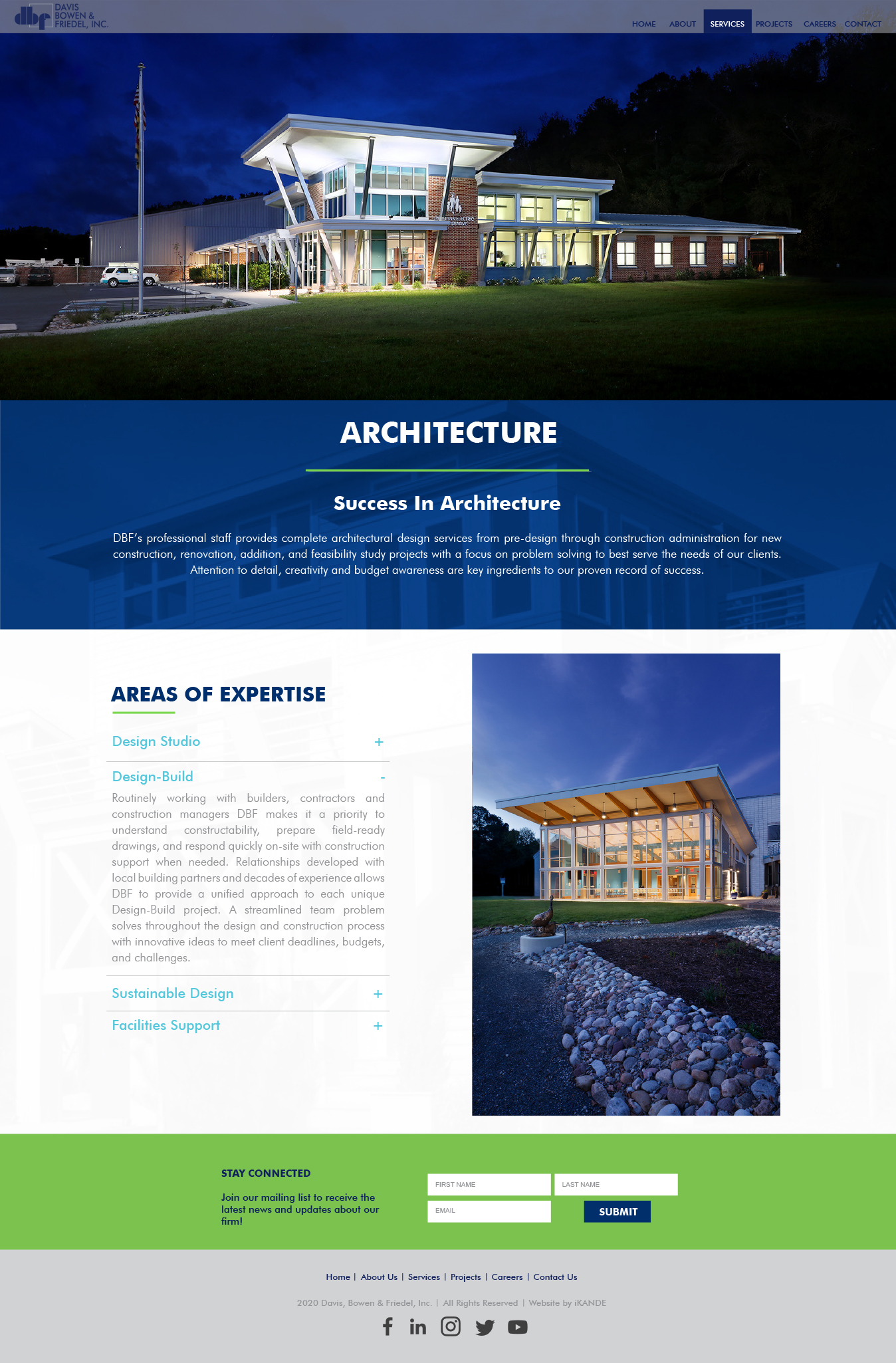 DBF, Inc. News Page
From projects, to new hires, and initiatives, it's best to direct traffic back to your website from press releases and social media. A well organized news page makes it easy to share everything happening with new staff, and work, all in one place.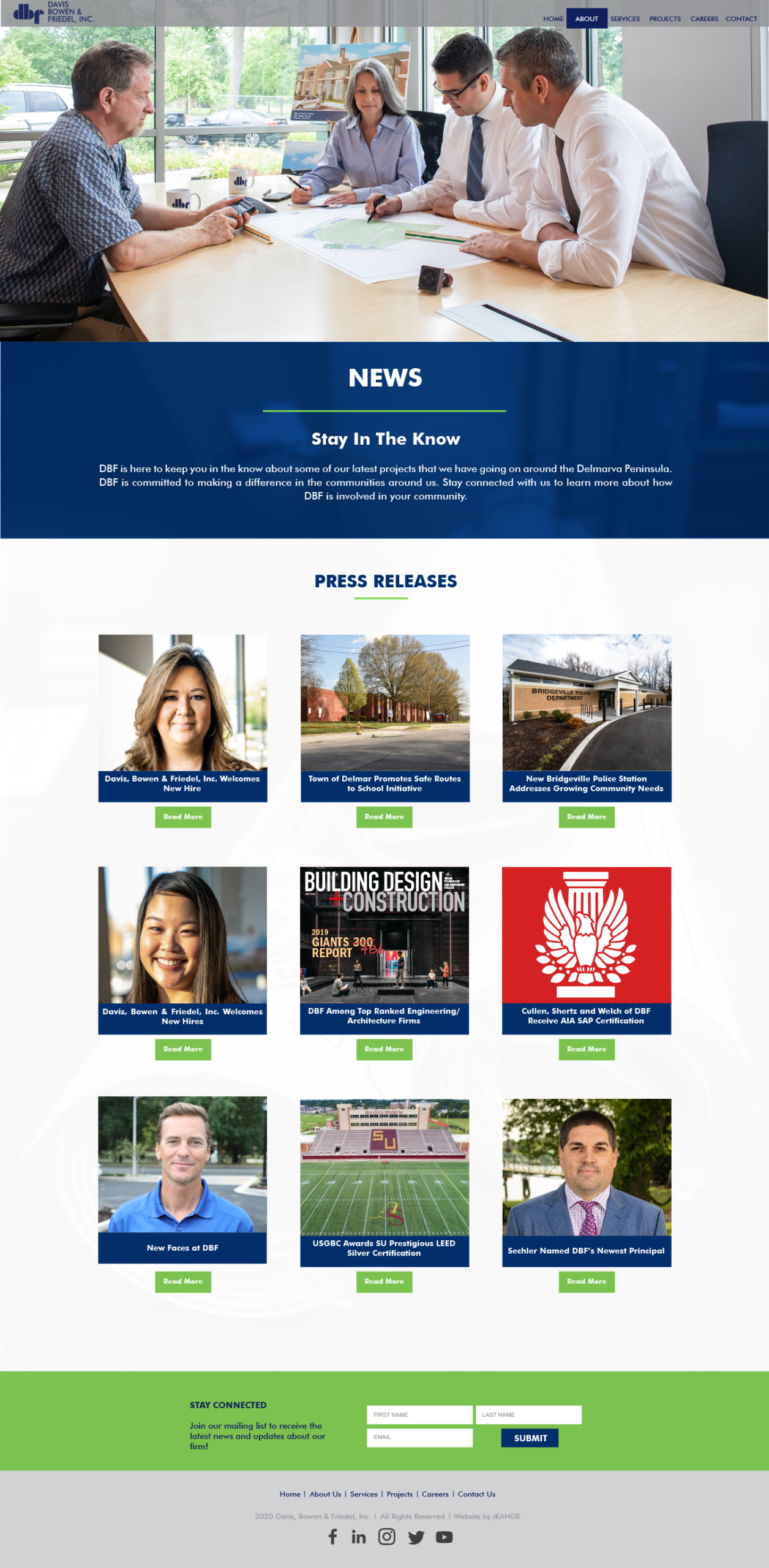 . . . . . . . . . . . . . . . . . . . . . . . . . . . . . . . .
Have a large, outdated company website? Or maybe you are looking to simplify a cumbersome and clunky website?
Either way, iKANDE can help you create a fresh, new website that attracts new clients and talent alike.
Reach out to iKANDE to find out more…
. . . . . . . . . . . . . . . . . . . . . . . . . . . . . . . .
Looking for more examples?
Other website's we've had the honor of designing:
Middletown Kitchen & Bath
Susan Weidman Law Firm
Tomasetti Law Firm